Making Tasting Simple and Approachable
The Chocolate Tasting Flavour Map: A simple and approachable tool to help people discover and describe flavours with colour!
Taste With Colour is designed for everybody to use: from consumers to industry professionals. No training or certification is required.
Learn more about this fun technique and enhance your chocolate, coffee or wine tasting experience! Available in 9 languages.
As featured in Cacao Magazine, Caffeine Magazine, Revista Menu and Journal Chocolat Magazine.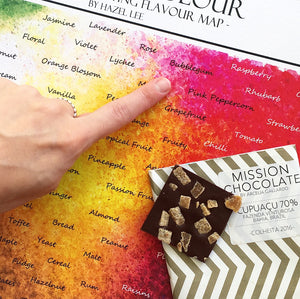 How To Taste Chocolate With Colour by Manoa Craft Chocolate TV
Tasting & Painting Workshops
Take your chocolate tasting to another level with a fun and interactive Tasting and Painting Workshop!
Whether you're brand new to tasting or a certified chocolate taster, Taste With Colour Tasting & Painting Workshops provide a lighthearted yet insightful experience. You will be empowered to identify specific flavour notes, enhance your flavour vocabulary and deepen your chocolate tasting experience.
Get in touch to book your Taste With Colour workshop!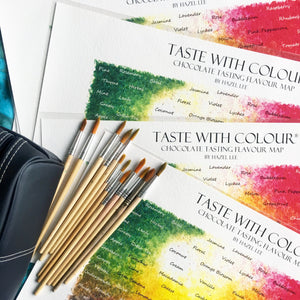 Taste With Colour for Industry Professionals